Posts for tag: teeth grinding
By Michael J Solly, DDS
May 28, 2020
The fast-paced world of sports and entertainment isn't all glitz and glamour. These high-profile industries create a unique kind of emotional and mental stress on celebrities. For many of them, a way to "let off steam" is an oral habit known as teeth grinding.
Teeth grinding is an involuntary habit in which a person bites and grinds their teeth outside of normal activities like eating or speaking. It's common among young children, who usually grow out of it, but it can also affect adults, especially those who deal with chronic stress. If not addressed, teeth grinding can eventually wear down teeth, damage gum attachments or fracture weaker teeth. It can even contribute to tooth loss.
A number of well-known personalities in the spotlight struggle with teeth grinding, including actress Vivica Fox, model and TV host Chrissy Teigen, and star athletes Tara Lipinski and Milos Raonic of ice skating and tennis fame, respectively. The habit represents not only a threat to their dental health, but also to one of their most important career assets: an attractive and inviting smile. Fortunately, though, they each use a similar device to manage their teeth grinding.
Besides seeking ways to better manage life stress, individuals with a teeth-grinding habit can protect their teeth with a custom mouthguard from their dentist. Made of slick plastic, this device is worn over the teeth, usually while sleeping, to minimize dental damage. During a grinding episode, the teeth can't make contact with each other due to the guard's glossy surface—they simply slide away from each other. This reduces the biting forces and eliminates the potential for wear, the main sources of dental damage.
Chrissy Teigen, co-host with LL Cool J on the game show Lip Sync Battle, wears her custom-made guard regularly at night. She even showed off her guard to her fans once during a selfie-video posted on Snapchat and Twitter. Vivica Fox, best known for her role in Independence Day, also wears her guard at night, and for an additional reason: The guard helps protect her porcelain veneers, which could be damaged if they encounter too much biting force.
Mouthguards are a prominent part of sports, usually to protect the teeth and gums from injury. Some athletes, though, wear them because of their teeth grinding habit. Tara Lipinski, world renowned figure skater and media personality, keeps hers on hand to wear at night even when she travels. And Milos Raonic, one of the world's top professional tennis players, wears his during matches—the heat of competition tends to trigger his own teeth-grinding habit.
These kinds of mouthguards aren't exclusive to celebrities. If you or a family member contends with this bothersome habit, we may be able to create a custom mouthguard for you. It won't stop teeth grinding, but it could help protect your teeth—and your smile.
If you would like more information about protecting your smile, please contact us or schedule a consultation. To learn more, read the Dear Doctor magazine articles "Teeth Grinding" and "When Children Grind Their Teeth."
By Michael J Solly, DDS
September 17, 2017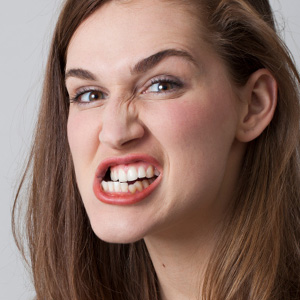 Modern life can be demanding. The body helps us rise to the occasion through responses we collectively call stress.
But while stress can be a good thing, it can also overwhelm us and manifest in some harmful way: bouts of back pain, stomach ulcers or even acne. It could also trigger tooth grinding, often occurring as we sleep. And like other stress relievers, tooth grinding can be detrimental to your health long term.
Teeth-on-teeth contact occurs normally when we eat or speak, or simply as our jaws contact each other with glancing touches hundreds if not thousands of times a day. Such normal contact is beneficial because it stimulates healthy bone growth in the jaw. But if the forces created exceed the normal range as with tooth grinding (up to ten times), it can cause a bevy of problems to the teeth and jaws.
While excessive jaw motion during teeth grinding can cause inflammation and painful spasms in the muscles, the greater danger is to the teeth, which could even fracture from the high amount of force. The more common occurrence, though, is an increased rate of enamel erosion, which causes the tooth to lose vital structure and eventually appear shorter in appearance.
Fortunately, there are ways to reduce teeth grinding or its severity. The first order of business is to treat its effects by reducing its symptoms and ongoing damage. We can recommend some behavior modification techniques to alter the frequency of the habit or a night guard to protect the teeth from the intensity of the habit if you're unable to change the behavior.
A custom-fitted night or occlusal guard, a retainer-like dental appliance made of smooth acrylic plastic is designed so that the lower teeth glide over the guard surface when grinding and can't make solid contact with the upper teeth. This reduces the generated force and helps protect the teeth.
In the long term, though, you should address the root cause — how you're handling daily stress. Treatment by a psychotherapist or counselor, for example, could help you develop ways to channel stress in more productive ways.
However your treatment strategy develops, it's important to address stress and teeth grinding as soon as possible. Controlling it will have long-term benefits for your teeth and smile.
If you would like more information on dealing with stress that causes tooth grinding, please contact us or schedule an appointment for a consultation. You can also learn more about this topic by reading the Dear Doctor magazine article "Stress & Tooth Habits."
By Michael J Solly, DDS
August 03, 2017
Ever since childhood, when her career as a model and actress took off, Brooke Shields has enjoyed worldwide recognition — through advertisements for designer jeans, appearances on The Muppet Show, and starring roles in big-screen films. But not long ago, that familiar face was spotted in an unusual place: wearing a nasal anesthesia mask at the dentist's office. In fact, Shields posted the photo to her own Instagram account, with the caption "More dental surgery! I grind my teeth!" And judging by the number of comments the post received, she's far from alone.
In fact, researchers estimate that around one in ten adults have dental issues that stem from teeth grinding, which is also called bruxism. (Many children also grind their teeth, but it rarely causes serious problems, and is often outgrown.) About half of the people who are teeth grinders report problems like persistent headaches, jaw tenderness and sore teeth. Bruxism may also result in excessive tooth wear, and may damage dental work like crowns and bridges; in severe cases, loosened or fractured teeth have been reported.
Researchers have been studying teeth grinding for many years; their findings seem to indicate that it has no single cause. However, there are a number of factors that play a significant role in this condition. One is the anatomy of the jaw itself, and the effect of worn or misaligned teeth on the bite. Another factor relates to changes in brain activity that occur during the sleep cycle. In fact, nocturnal (nighttime) bruxism is now classified as a sleep-related movement disorder. Still other factors, such as the use of tobacco, alcohol and drugs, and a high level of stress or anxiety, can make an individual more likely to experience bruxism.
What can be done for people whose teeth grinding is causing problems? Since this condition may have many causes, a number of different treatments are available. Successful management of bruxism often begins by striving to eliminate the factors that may cause problems — for example, making lifestyle changes to improve your health, creating a soothing nighttime environment, and trying stress-reduction techniques; these may include anything from warm baths and soft music at bedtime, to meditation and mindfulness exercises.
Several dental treatments are also available, including a custom-made occlusal guard (night guard) that can keep your teeth from being damaged by grinding. In some cases, a bite adjustment may also be recommended: In this procedure, a small amount of enamel is removed from a tooth to change the way it contacts the opposite tooth, thereby lessening the biting force on it. More invasive techniques (such as surgery) are rarely needed.
A little tooth grinding once in a while can be a normal response to stress; in fact, becoming aware of the condition is often the first step to controlling it. But if you begin to notice issues that could stem from bruxism — or if the loud grinding sounds cause problems for your sleeping partner — it may be time to contact us or schedule an appointment. You can read more about bruxism in the Dear Doctor magazine article "Stress and Tooth Habits."