Posts for: January, 2021
By Michael J Solly, DDS
January 13, 2021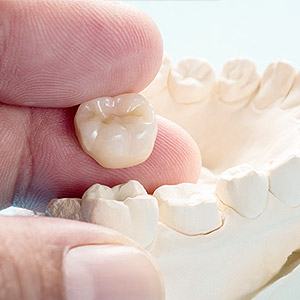 Millions of Americans rely on dental insurance to help them better afford dental care. Depending on the benefit package, an insurance policy can be useful in restoring dental health compromised by disease or injury.
But how life-like that restoration may appear is often a secondary concern with many insurance plans. For example, dental insurance will pay for a crown restoration that restores function to a tooth, but not necessarily of the highest aesthetic quality for achieving a truly life-like appearance.
To be sure, not all dental crowns are the same. Some are all metal, usually gold or silver. Some are "hybrids," made of an interior metal shell with an outer fused porcelain shell (porcelain-fused-to-metal or PFM). In recent years all -ceramic crowns made of stronger life-like ceramics have become the most popular.
The type of crown used will depend a great deal on the type and location of the tooth. Teeth on the back of the jaw that encounter greater biting forces and are not as noticeable in the smile may do better with a metal or PFM crown. Visible side and front teeth are more likely candidates for all-ceramic. Your dentist will give you your best options as it pertains to your dental needs and appearance.
There's also a difference in crown workmanship. Dental laboratories now use milling machinery that sculpts a crown from a single block of material. Although some final handwork by skilled technicians is still necessary, milling has streamlined the process—and the cost—for producing a crown of high functioning quality.
But crowns that achieve the most natural smile appearance require more in the way of artistic craftsmanship. This in turn can increase the crown's price—beyond what many dental policies agree to cover. You may then be faced with a decision: an insurance-covered functional crown with an acceptable level of life-likeness or a more life-like crown for which you may have to pay more out-of-pocket.
Your dentist can advise you on your best options for a crown restoration, also factoring in what your insurance will cover. Ultimately, though, you'll have to weigh the kind of smile you desire with your dental situation and finances.
If you would like more information on dental crown restorations, please contact us or schedule an appointment for a consultation. You can also learn more about this topic by reading the Dear Doctor magazine article "Porcelain Dental Crowns."
By Michael J Solly, DDS
January 03, 2021
The timing around losing a tooth may not always sync with your financial ability. It's not unusual for people to postpone getting a dental implant—by far the best option for replacing a missing tooth—because of its expense.
So, if you have to postpone dental implants until you can afford them, what do you do in the meantime to keep your smile intact? One affordable option is a temporary restoration known as a flexible removable partial denture (RPD).
Composed of a kind of nylon developed in the 1950s, flexible RPDs are made by first heating the nylon and injecting its softened form into a custom mold. This creates a gum-colored denture base to which prosthetic (false) teeth are affixed at the exact locations for missing teeth.
Differing from a permanent RPD made with rigid acrylic plastic, a nylon-based RPD is flexible and lightweight, making them comfortable to wear. They're kept in place with small nylon extensions that fit into the natural concave spaces of teeth. And, with a bit of custom crafting, they can look quite realistic.
RPDs are helpful in another way, especially if you're waiting for an implant down the road: They help preserve the missing tooth space. Without a prosthetic tooth occupying that space, neighboring teeth can drift in. You might then need orthodontic treatment to move errant teeth to where they should be before obtaining a permanent restoration.
Flexible RPDs may not be as durable as acrylic RPDs, and can be difficult to repair or reline if needed to adjust the fit. Though they may not stain as readily as acrylic dentures, you'll still need to clean them regularly to help them keep looking their best. This also aids in protecting the rest of your mouth from dental disease by removing any buildup of harmful bacterial plaque on the RPD.
But even with these limitations, patients choose RPDs for the simple fact that they're affordable and temporary. And the latter is their greatest benefit—providing you a "bridge" between losing a tooth and replacing it with a durable dental implant.
If you would like more information on tooth replacement options, please contact us or schedule an appointment for a consultation. You can also learn more about this topic by reading the Dear Doctor magazine article "Flexible Partial Dentures."